Embracing the Serenity: Life in Los Osos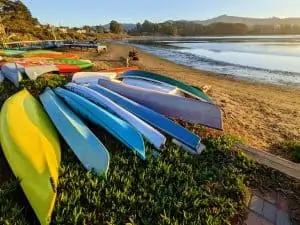 Nestled along the picturesque coastline of California, the tranquil town of Los Osos stands as a hidden gem for those seeking a slower pace of life. With its stunning natural landscapes, friendly community, and unique charm, Los Osos offers a delightful blend of coastal living and a deep connection with nature. In this blog, we will explore the many reasons why Los Osos is a perfect place to call home.
Breathtaking Natural Beauty:
Los Osos is blessed with an abundance of natural beauty. From the serene waters of the Pacific Ocean to the captivating vistas of the Montana de Oro State Park, nature lovers will find themselves in awe of the surrounding landscapes. The coastal dunes, pristine beaches, and rolling hills provide ample opportunities for outdoor recreation, including hiking, birdwatching, kayaking, and surfing. Living in Los Osos means waking up to breathtaking views and having nature's wonders at your doorstep.
Peaceful and Close-Knit Community:
One of the most cherished aspects of Los Osos living is its strong sense of community. Despite its small size, the town fosters a welcoming atmosphere where neighbors become friends, and a true sense of belonging is cultivated. Local events, farmers markets, and community gatherings provide opportunities for residents to connect and engage in the vibrant tapestry of small-town life. Whether it's participating in local initiatives or enjoying a cup of coffee at the neighborhood café, Los Osos offers a community-driven lifestyle that nurtures human connections.
A Haven for Artists and Creatives:
Los Osos has long been an inspiration for artists, writers, and musicians, drawn to its natural beauty and peaceful ambiance. The town is home to various galleries, studios, and creative spaces, where local artisans showcase their talent. The creative spirit is celebrated through art festivals, music performances, and cultural events that enrich the community and provide a platform for expression. For those seeking to tap into their artistic side or immerse themselves in a thriving creative community, Los Osos offers a nurturing environment.
Sustainable Living:
Los Osos residents are passionate about preserving the natural environment and adopting sustainable practices. The community embraces a conscious way of living, with an emphasis on renewable energy, recycling, and eco-friendly initiatives. Organic farming, community gardens, and locally sourced produce are integral parts of the sustainable ethos. Living in Los Osos allows individuals to reduce their carbon footprint and actively contribute to a greener future, fostering a deep connection with the environment and leaving a positive impact on the planet.
Proximity to Amenities:
While Los Osos offers a tranquil escape from the hustle and bustle of city life, it's also conveniently located near essential amenities. Just a short drive away, residents can access the vibrant city of San Luis Obispo, which offers a wide range of shopping centers, restaurants, cultural attractions, and a renowned university. Los Osos strikes a perfect balance between peaceful seclusion and easy access to urban conveniences, allowing residents to enjoy the best of both worlds.
Los Osos, with its breathtaking landscapes, close-knit community, artistic spirit, and sustainable living, provides a unique and idyllic coastal experience. Living here means embracing a slower pace of life, immersing oneself in the beauty of nature, and enjoying the warmth and camaraderie of a welcoming community. Whether you seek inspiration, tranquility, or a deeper connection with the natural world, Los Osos offers a place to call home that is truly special.
[